Enrolment
Enrolment generally begins for the winter semester in mid-September and for the summer semester in mid-March. You will be notified of the precise dates and place of enrolment with the information on registration, together with your letter of admission. Once you have enrolled, you will become a student of Otto von Guericke University. You will then receive your student ID card (UniCard) and important information on your course.
The UniCard
After enrolling, you will receive your student ID card, which you must validate, or activate, and with which you can travel free of charge on the trams and buses in Magdeburg. This is what your student ID card looks like: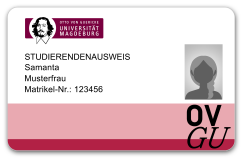 More Information on the UniCard and on validating it.
If your UniCard is lost or damaged, please notify the Campus Service Center (CSC), Building 18, Universitätsplatz Campus immediately.
Semester Fee
You must transfer the semester fee after being requested to do so by the Enrolment's Office.
Enrolment for students who are working towards an academic degree
Enrolment for international students working towards an academic degree takes place via email.
In order to be enrolled, you have to prepare and present the following documents:
application for

enrolment

proof of identity (passport): Please note that you will need a valid

visa

during your stay in Germany. You can find more information at Federal Foreign Office!
proof of

health insurance

: Explanations on how to apply for

health insurance

can be found here; sender number of OVGU ("Absendernummer"): H 000 1216
proof of correspondence address in Germany (city registration or rental contract, in exceptional cases: c/o-address)
one passport-size photograph (jpg, jpeg, gif, png, pjpeg, x-png/ max. 1MB)
only for applicants who attended a German higher institution before: certificate of de-registration of a German higher education institution previously attended - statement that no examination in your previous studies has been irrevocably failed ("Unbedenklichkeitsbescheinigung").
What happens next? Once your documents have been fully submitted, you will receive an email with the payment request for the semester fee of 129,90€. This email will be sent to the email address you provided when applying and will contain important information about the start of your studies (matriculation number, registration data for student account). This process can take up to 10 working days. In order to ensure that your application for enrolment is processed quickly, we urge you to refrain from making enquiries by e-mail or telephone. Both the large number of incoming applications and data protection preclude further information.
Enrolment for students of medicine
Enrolment onto the medical degree course takes place in the Dean's office in the Faculty of Medicine.
Enrolment for exchange programme students
Enrolment for international exchange programme students (e.g. ERASMUS+, students from partner universities etc.) takes place in the International Office, Building 18. You can enrol online or in person.
Opening hours
Tuesday and Thursday: 10 a.m. to 12 noon and 1 to 3 p.m.


Ms Anne-Katrin Güldenpfennig, Building 18, Room 149
Phone +49 (0)391 675 2634
The following documents must be presented when you enrol:
letter of admission
proof of identification (ID card or passport with a valid

visa

)
proof of

health insurance

: Explanations on how to apply for

health insurance

can be found here (sender number of OVGU ("Absendernummer"): H 000 1216).
proof (receipt) of payment of the semester fee
passport photo
Enrolment of doctoral students
The staff in the Department of Academic Affairs are responsible for enrolment on doctoral degree courses. The Graduate Academy is the central service facility for all doctoral students at Otto von Guericke University and their supervisors. The MIPS initiative was set up by postgrads for postgrads and offers support and advice before and during your PhD studies.