Privacy notice for Facebook
Transferring to Facebook
If you click on the link to our fan page, you will leave www.ovgu.de and switch to the social network (Facebook). The OVGU.Magdeburg Facebook page is run by the Press Office at Otto von Guericke University.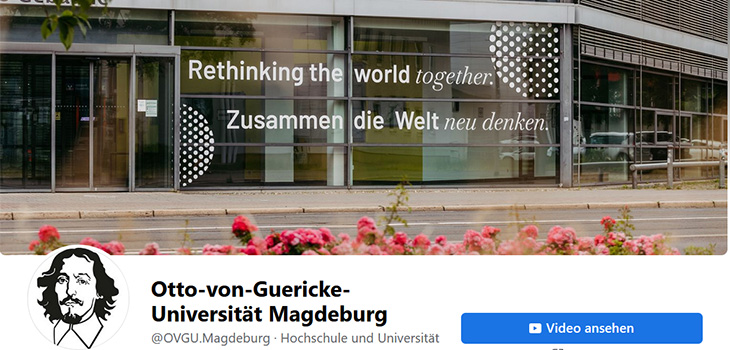 Screenshot of the Otto von Guericke University Magdeburg Facebook page
Privacy Information
The privacy rules that have been put in place for the University of Magdeburg website do not apply to Facebook, as this social network has its own privacy policy. When you visit the Facebook fan page of the University of Magdeburg, among other things, Facebook records your IP address and other information that is available on your computer in the form of cookies. This information is used to provide the operators of Facebook pages with statistical information about your use of their pages. The statistics that Facebook makes available to the administrators are provided in aggregated form and do not reveal any personal information. Facebook provides more detailed information about this on its own website. Furthermore, as the provider of the fan page, the University of Magdeburg does not record or process any data regarding your use of this fan page.
The exact data that Facebook stores and the purposes for which it is used is not known in detail. For example, in addition to personal details, an individual's usage behavior such as preferences, habits, contacts and also computer and mobile information might be logged and used. You should therefore only transfer to Facebook if you are aware of this data capture, storage and processing and accept the possible consequences. You can find out more about this in the Facebook Privacy Policy.
Note about the handling of sensitive data
Facebook gives its users the opportunity to communicate with contacts, to discuss different topics and make personal content available and share it with the internet community. These varied possibilities do not present difficulties for experienced users but for inexperienced users this variety of functions may become a problem. Be careful with your data and do your homework about Facebook and its privacy settings before disclosing information in your profile or personal content. Personal content that is not intended for public consumption but still finds its way onto the internet may in some cases be difficult to remove again or change retrospectively and in the worst-case scenario may remain visible on the internet for a very long time.