Financial Economics
STUDY PROGRAMME
Financial Economics
Degree Conferred Master of Science (M.Sc.) Duration 4 Semesters Enrollment Wintersemester Admission restriction No restricted admission Entry requirements 1. Relevant bachelor's, diploma, or comparable degree with at least 140 ECTS (at the time of applying), and an average grade of 2.9 or better, determined from the examination results.

- A study program is relevant if at least 60 ECTS (EU degrees) or 12 modules (non-EU) in economics, and at least 18 ECTS (EU degrees) or 4 modules (non-EU) in courses in the field of quantitative methods have been acquired.

2. Proof of English language skills

3. Proof of relevance with the faculty's verification form

- Applicants who have obtained their bachelor's degree at the Faculty of Economics and Management of Otto-von-Guericke-University Magdeburg do not have to prove the relevance of a completed undergraduate degree, as this information is already known to the faculty.

4. Letter of motivation in English, containing no more than 450 words, which illustrates the professional and academic interest in the chosen master's program, presents the applicant's special skills and knowledge, and sets out personal expectations regarding the content, methods, and study processes of the chosen master's program.
Application deadline Applicants with a German Bachelor degree an der OVGU 15 September Applicants with International Bachelor degree über uni-assist 15 July Language English
Objectives
The objective of the study program is to enable students to independently identify economic problems, to independently develop solutions to problems on a scientific basis, and to formulate recommendations for action. Students will acquire a systemic way of thinking and excellent analytical skills. Both of these skills are valuable qualifications for managerial and consulting activities, which allow students to understand complex interrelationships, and to analyze and evaluate problems from multiple viewpoints.
The study program is focused on questions of financial economics and capital market theory, the functionality and regulation of banking and financial markets, and empirical financial market research to support entrepreneurial and economic policy decisions in a globalized world. The curriculum is taught entirely in English. The student body is multinational and consists of students from more than 30 countries. A particular emphasis is placed on combining technical competence with multilingualism and an international dimension.
Career Perspectives
The Financial Economics degree program provides graduates - regardless of industry sector - with the skills to take on managerial positions, or to work in departments of private and public, national or international companies, management consultancies, banks, insurance companies, and financial institutions. In addition to specialized and managerial tasks in a company, independent work or employment in the scientific sector are also possibilities.
Graduates are well prepared for embarking on postgraduate education, including doctoral studies in the field of economics and associated fields.
Competencies and Interests Required
Applicants should have a keen interest in business and economic issues, and have good or excellent knowledge of quantitative methods, mathematics, statistics, econometrics, as well as micro- and macroeconomics. Fluency in spoken and written English at the C1 language level, as well as knowledge of academic writing are required.
More information
Program structure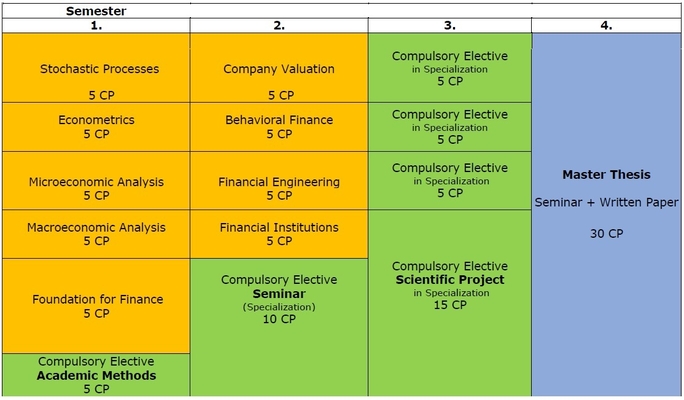 More Links
Student Advisory Service
Otto von Guericke University Magdeburg
Universitaetsplatz 2
39104 Magdeburg
Germany
International Study Programm Coordination Office
Tel.: +49 391 67 58818
Fax: +49 391 67 51179
Last Modification: 17.12.2021 - Contact Person: Webmaster