Registration for courses started
25.03.2020 -
According to the academic year schedule, the summer semester begins on April 1, 2020, but until (at least) April 20, 2020, on the instructions of the Ministry of Science, Economics and Digitization, all face-to-face courses are suspended, i.e. there will be no courses with the personal presence of students on site.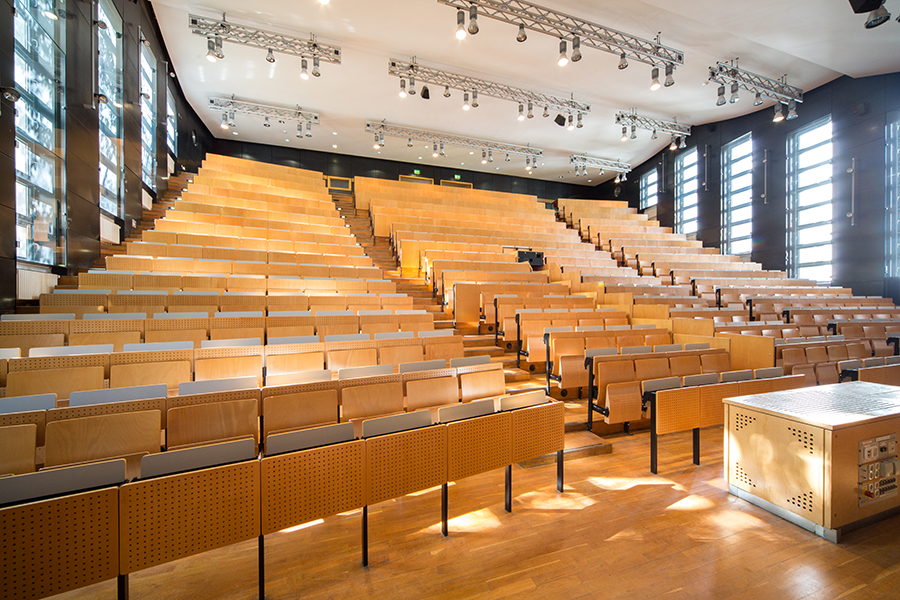 Even if the lecture halls remain empty, the courses take place in a different form. (Photo: Stefan Berger / University of Magdeburg)
In the LSF, students will find, as usual, all courses offered for their study programs in the summer semester. Lecturers at the University of Magdeburg are intensively engaged in working out supplementary, alternative or substitute formats for the time when attendance courses cannot take place or the current contact restrictions still apply. In which form these offers are made available (teaching videos, extended scripts, live streams, chat rooms...) depends on the respective subject culture, the learning goals of the individual modules, but also on the available resources.
It is important for german students to register for all modules/courses they wish to take in the summer semester via LSF according to the registration deadline (in most cases this is 06.04.2020) with their current e-mail address. This is the only way for the lecturer to contact you promptly for the first time and to inform you about the procedure (further contact platform, formats, tasks etc.) and the special features of the respective module. The university is currently working on a solution for international students who have until the end of April to enrol. We kindly ask you for a little patience! You will be informed.
Modules with internship parts may have to be designed in such a way that these parts take place e.g. in the block at the end of the semester (after lifting the contact restrictions), possibly shortened or replaced.
At present, there are no plans to generally extend the course duration of the summer semester. However, this depends very directly on the further course of the pandemic. The same applies to the examinations planned for the summer semester.
"We are aware that the summer semester 2020 will be a special challenge for all those involved. However, I would like to encourage you to play an active role in shaping it and can assure you that we will do everything we can to avoid any disadvantages that might arise for you from this special situation," said the Vice Rector for Studies and Teaching, Prof. Franziska Scheffler.